Welcome to Crossroads Chiropractic

Crossroads Chiropractic is the premier chiropractic and Rehab facility of the Kansas City metro area, specializing in Wellness and Preventative health care designed to allow the body to heal itself without the use of surgery or prescription drugs. Our Chiropractor, Dr. Taylor, is dedicated to helping you achieve your wellness objectives, combining skill, expertise, and the latest technology to design a treatment that is specific to Your needs.
You're unique, so are we! Every patient is unique, and our doctor is trained to efficiently Diagnose and prescribe the most effective course of Treatment for your individual muscle, joint or nerve disorder. We aim to not only relieve your pain, but to Correct your problem and promote optimal overall health.

Meet Dr. Jessica Taylor
Dr. Jessica M.Taylor graduated cum laude from Cleveland Chiropractic College with her Doctorate of Chiropractic degree in 2008. She grew up just north of Kansas City in St. Joseph, Missouri. She then attended the University of Missouri in Columbia, where she obtained a bachelors degree in Business.
Dr. Taylor is certified in Diversified, Thompson drop, Flexion Distraction, Activator and Graston techniques. She believes that chiropractic care is essential for every person, from infants to seniors, as a preventative form of healthcare. By integrating her education and various techniques, she has the ability to help the body function at its full capacity, decreasing pain and further preventing future symptoms and illness.
Dr. Taylor's mission is to help create better health for the entire family through treatment and education. She believes that a holistic approach allows the body to heal itself by removing interference to the nervous system caused by misalignments of the spine (subluxations). Whether you are in constant pain, experience occasional headaches or are just wanting to take a proactive approach to your health, Dr. Taylor is here to help you!

Meet Dr. Abby Reed
Dr. Abby Reed has an extensive background in integrative medicine. She holds her Bachelors from the University of Kansas and Doctorate from Cleveland University in Kansas City. Dr. Abby is a National Board of Chiropractic Examiners board certified chiropractor in anatomy, physiology, radiology, biochemistry, pathology, physiotherapy and clinical studies. She is a proficiency rated doctor in Activator chiropractic technique as well as a board certified acupuncturist with fellowship study through Acupuncture Society of America.
Early in her healthcare career, Dr. Abby became a nationally certified massage therapist building her client base at a yoga spa in Lenexa, Kansas. It was this experience, witnessing healing and transformations of her patients through mind body work and preventive medicine, which inspired her to further her education to become a doctor. Her graduate work includes experience in Traditional Chinese medicine, with special interest in vitality based prevention medicine, aesthetic anti-aging, nutrition, soft tissue rehabilitation and therapeutic yoga. She has specifically developed protocols for cosmetic non-surgical facial rejuvenation, de-stress + unwind and metabolism enhancement treatments through acupuncture and provides mobile acupuncture parties in Kansas City.
In addition to her therapeutic education, she is a Yoga Alliance RYT 200 teacher. Her passions lie within the realm of teaching and assisting her patients reach their optimal health, wellness and vitality goals through chiropractic, acupuncture, fitness, bodywork stress reduction techniques with a spa touch.The joy and great love of her life is her husband Ross, Farrah her dog, as well as new experiences with travel, culture and food, trail marathon running and exploring her beloved Kansas City.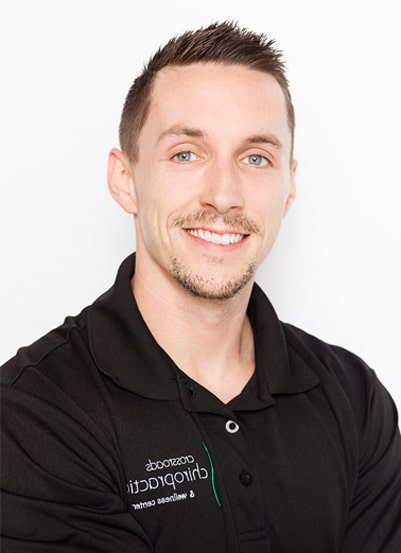 Dr Cory Wilsey graduated from Cleveland University with his Doctorate of Chiropractic degree this past spring. He also carries a bachelor's degree in nutrition and used to be a personal trainer. He currently is the Missouri State record holder for powerlifting for deadlift and total pounds lifted in a competition. He likes to spend his free time and weekends with his wife and his son. Dr Cory loves chiropractic care because it helped him through car accidents and weight lifting injuries. He loves educating his patients and sharing his passion for consistent Chiropractic Care to help everyone live to their fullest potential.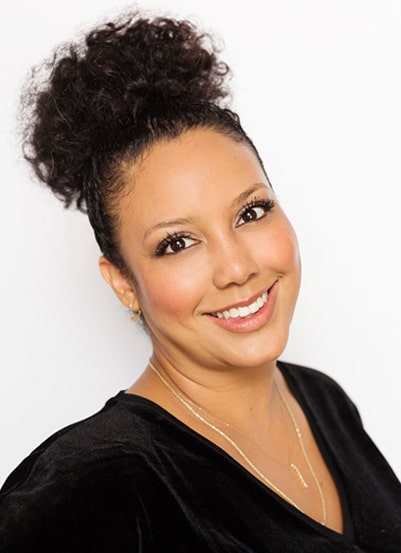 Free from any agenda or judgment this massage space is always a safe haven for clients to relax and be assured they will leave feeling nurtured, supported and met with respect and compassion. Driven by her thirst for knowledge of natural remedies and holistic medicine, the path to massage therapy opened her eyes to a career she is passionate about and absolutely loves.
Professionally trained with 10 years + experience, she plans to continue to expand her knowledge, experience and expertise in bodywork by attending workshops and classes to enhance her skills, and better serve her clients.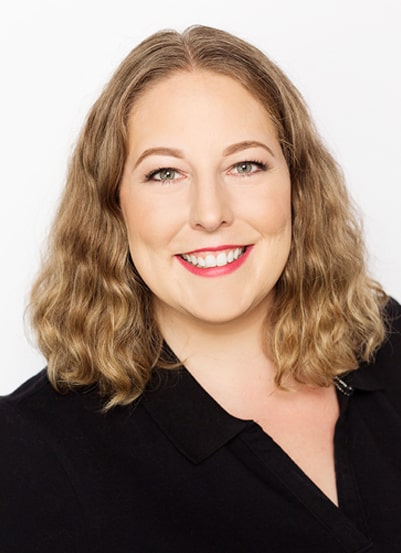 Kimberly Espino is a Licensed Massage Therapist and Corrective Exercise Specialist currently practicing in Kansas City, Missouri. She studied a variety of modalities including Swedish, Deep Tissue, Sports , Medical, Neuromuscular Therapy, Trigger Point Therapy, and Prenatal.
Kimberly takes the time to listen to each client's specific needs and designs a massage plan best suited for each individual. She will work with you every step of the way to make sure that you receive the professional quality care that you deserve.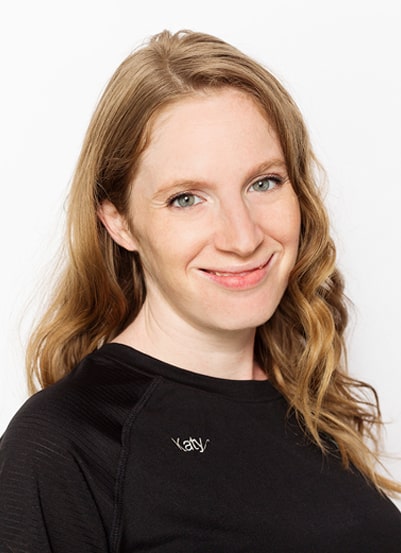 Katy was born in Long Island, NY and moved to Kansas City at a young age, where she grew up and still lives. Katy is a nationally registered certified medical assistant, which she obtained in 2008. She has been a part of the Crossroads team since December 2012 and looks forward to many more years of growing with the office. She has truly developed a passion for chiropractic care and helping others maintain wellness with a natural approach.
She loves talking to and getting to know her patients and learning about their different lifestyles. She loves being a part of a team that shares the same passions as she does for helping others live pain-free without surgery and medications.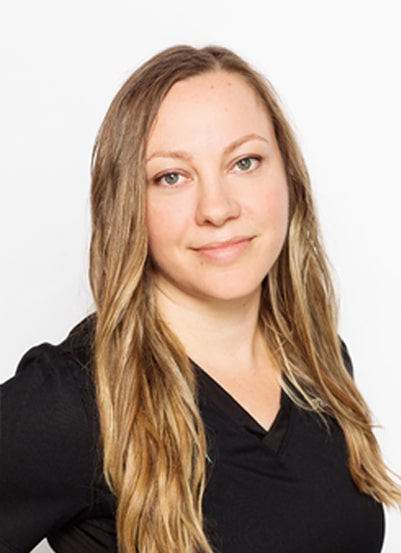 Tasha joined Crossroads Chiropractic and Wellness Center in April of 2014. She has an Associate's degree in Medical Office Management, graduating from Kaplan University with honors in 2011. Tasha is also a certified personal trainer. She has always been interested in the medical field and fascinated by the human body. After graduating she knew she wanted to work in an office with a more natural approach to healing. She enjoys meeting the patients and loves seeing the natural improvement in their health. In her free time, you'll find her spending time with her kids and friends, reading a good book, appreciating art or being outdoors.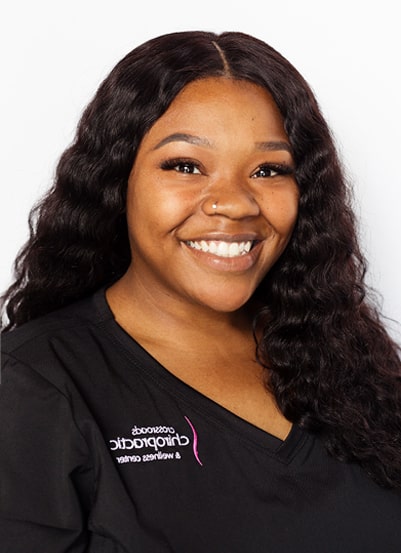 Kaniya is a X-Ray Technician with an Associates Degree in Occupational Health Sciences. She was born in South Missouri, raised in Houston TX and has lived in Kansas City Since 2010. With a family bound strong in medical and spiritual background, she has always shared a deep love for health consciousness and holistic healing. Kaniya was welcomed into our practice June of 2018 but has been active in the Chiropractic field since graduating from Heritage College in 2016. She welcomes every patient with a big bright smile and empathy beyond explanation.
Guaranteed to turn any frown upside down , even when in pain : )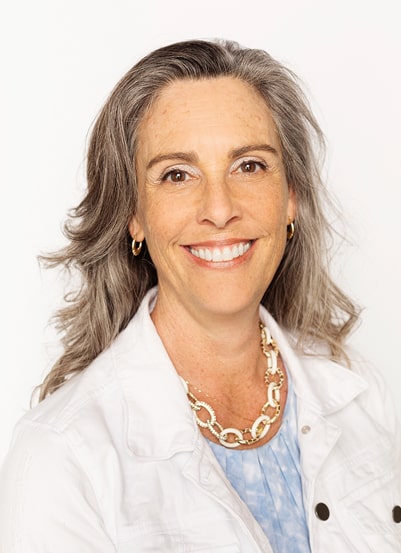 Dr. Rowden is a board-certified family medicine physician with nearly 20 years of experience including USAF, Residency Professor at USC, and a private practice in New Zealand. She even had the privilege of being a flight surgeon for the Space Shuttle. In addition to allopathic medicine, she integrates a wide range of other health sciences including homeopathy, naturopathy, diet, bioidentical hormones, herbal medicine, functional medicine and integrative medicine. Her goal is to provide patients with a whole-person approach to healing. She can provide care to individuals or entire families, yet limits the number of patients in her practice in order to spend quality time and provide full attentiveness.
EDUCATION:
Andrews Air Force Base, Family Medicine Residency 1993-1996
SUNY Health Science Center at Syracuse, M.D. degree 1988-1993–Graduated top 10% of class and the Ronald Kriznofski award for outstanding clinician
Tufts University, B.S. Cum Laude, Biology and Environmental Studies 1984-1988–Graduated with honors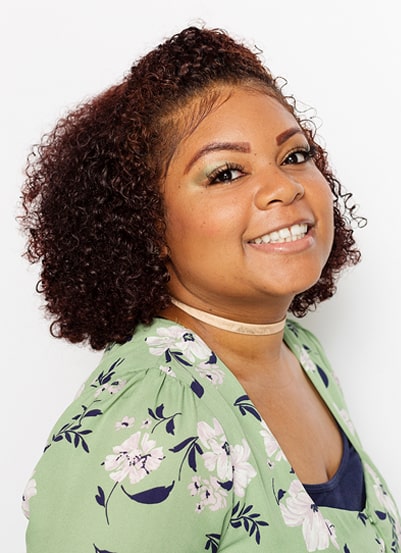 Shania has been a licensed esthetician for over 10 years. She has a true passion for making her clients look and feel beautiful. She believes that everyone should be able to feel good about themselves and she truly loves being able to help achieve that goal. Whether it's a relaxing facial, shaping your eyebrows, body waxing, or giving you beautiful eyelashes, she can help with it all!!